Home
Details
Custom Race Engine design and manufacturing
Custom engine design and manufacturing is our main focus at Elmer Racing. Our history is in extreme performance racing engines, as in our full billet #Thor racing engine, with the highest power-to-mass ratio of any OEM circuit racing engine ever! (beating the previous record holder, the Honda V10 F1 engine) No other manufacturer has a 4 valve billet engine incorporating a full cooling system, that is needed for circuit racing and other long duration engine operation. We also provide design and manufacturing support to other businesses for both racing and non-racing, series production and prototype/test engines.
Billet design and manufacturing
Billet Elmer Racing merge collectors
Our 304/304L stainless steel merge collectors are the most cost effective and durable options for turbo exhaust manifold manufacturing. So good in fact that they are also being used by customers on naturally aspirated engines! With over 250+ different designs available, we have most of your needs covered. Custom designs can be done also. Check our online RaceShop for some available examples! Other alloys available on request.
Custom Billet components
We regularly help design and manufacture custom, complex shaped components for our customers. Intake manifolds with integrated bellmouths, flanges with built-in transitions, barrel throttle bodies, industry components, and much more! We're setup to be able to provide these services for a wide range of materials, hardened tool steel, magnesium, aluminum, stainless steel, we even machine wood and plastics for special orders.
Check out our online RaceShop, for some ideas of the kind of custom products we can make!
Design and Optimization
We can do complete vehicle dynamics simulations for Rally and Circuit race cars. To investigate the performance of whole vehicle packages, and how the components perform. FEM, mechanism simulation, CFD, we do it all. These services are also available to select industry sectors.
The Team
The corner stone of Elmer Racing, the Elmgren family, has been active in motorsport since 1993. We have the experience and the equipment/software to do aero optimization, component design and optimization, multi-axis prototype-part milling, as well as vehicle performance and track simulation.
We're used to pushing component design to the limit, minimizing mass and maximizing performance as efficiently as possible!
Details
Fresh Billet Race engine for 2021
We've now started work on Hel, the first billet engine for the Nissan GT-R. Still early days for the engine project, but here are some highlights of the options:
Details
Do you like money? We're offering it in exchange for work, and continuous learning and improving your multi-axis CAM and CNC skills.
We have three spots open in our CNC team! 1-2 specialist CAM/CNC operators, and 1-2 machine operators.
We specialize in difficult to manufacture parts, prototypes and quick turn around times. Currently this involves utilizing our CAM package to beat our 5-axis (actually 6-axis) tilt-table milling machine, and our 8-axis mill-turn machine into submission. We'll of course help you out in the learning process!
The parts we CNC machine are some of the most difficult, and the machines and software we use are complex. If you're one of the best and can handle big challenges, or really want to become one, we want you!
You will benefit from:
Good 3D spacial skills.
Basic physics understanding. Natural frequencies, vibrations and basic solid mechanics.
Previous CAM machining experience is a big plus.
Being able to handle tiny machine screws without loosing them is also a plus.
Fluency in English is required. Swedish and/or Finnish is a bonus.
Capability of meeting tight deadlines on a surprisingly frequent basis.
Capability of working independently, with high level of self-management. But also consulting colleagues when needed, or if you find something important (funny that is) on the internet.
Contact Oskar for further information:
This email address is being protected from spambots. You need JavaScript enabled to view it.
Viber, WhatsApp, WeChat, gsm: +358-40-581-3934
Details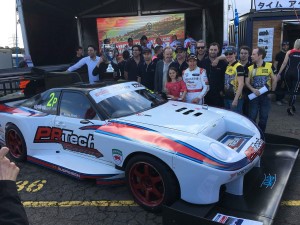 The Elmer Racing billet custom racing engine "Thor" is now officially the fastest unlimited class TimeAttack engine in the world!
After four years of building and improvements, the Rod Pobestek owned and managed RP968, in it's first outing with the Elmer Racing Thor engine, took P1 at World Time Attack Challenge 2018 at Sydney Motorsport Park 13.10.2018, with a blistering new lap record!
Details to follow!
Further information:
This email address is being protected from spambots. You need JavaScript enabled to view it.