The best gets even better!
It's time for a upgrade to our 3x back-to-back world champion Thor engine!
But before we look into the details of the 2000hp update,
lets do a quick review of what makes a good circuit racing engine.
Specs to be the best
It's (almost) always beneficial to save weight in motorsports. This is especially true for circuit racing, where there's constant acceleration and braking.
However, once you start adding in downforce to the equation, saving weight gets absolutely critical. The more downforce your aero is producing, and the lighter your car is, the more performance it gains from every kg of reduced mass and weight. Acceleration, braking, and most importantly your cornering speed improve!
Power/weight ratio is everything for a circuit racing engine.
Thor v2
Thor was already the best circuit racing engine ever. Clocking in at approximately 1500hp/150kg for a complete engine resulting in a 10/1 hp/kg ratio. With the Thor long block only weighing 106kg!
Thor v2 improves on that further. Making it the ultimate weight saving machine. Our recommended power output goes up to 2000hp, with the weight staying approximately the same (slightly lighter). This gives a power/mass ratio of 2000hp/150kg, or approximately 13.3:1 hp/kg.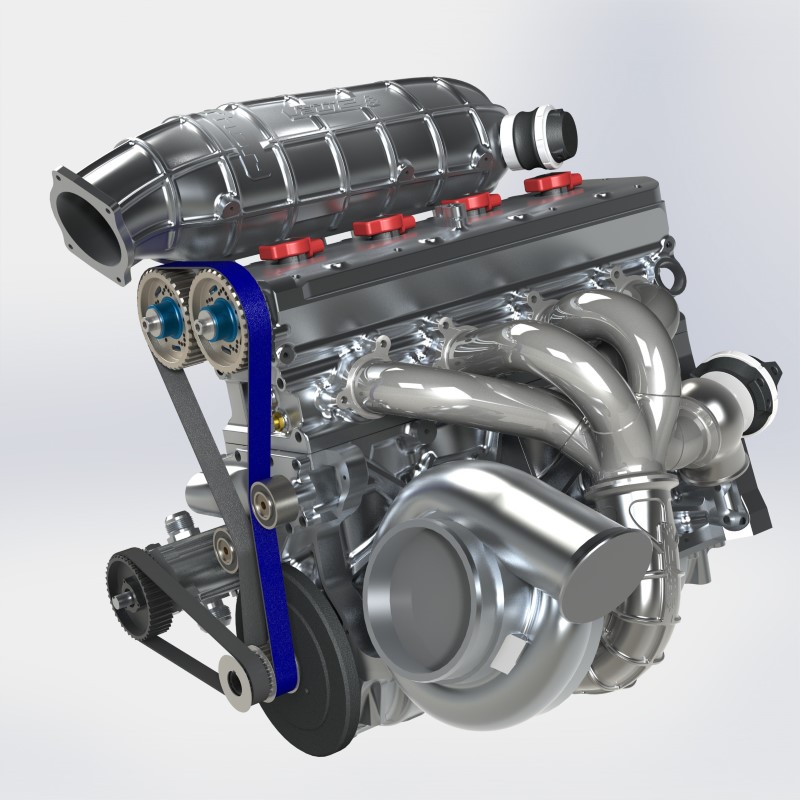 Other improvements are a optimization of the coolant system to require less coolant flow. Cooling pumps should always be run at full power any time the engine isn't at idle, but this update should allow for using smaller water pumps, allowing for a tighter overall engine package, and lower power draw.
We also added a cylinder pressure sensor option. This option is highly recommended when going up to the full 2000hp.
Cylinder head gasket clamping has also been reworked to distribute the clamping force even better than before, to allow for the higher cylinder pressures involved with the 500hp bump in maximum recommended power output.
We redesigned the cylinderhead to use two injectors per cylinder. With the injectors ideally located to keep intake port wall wetting at low as possible. This makes both cylinder cuts and acceleration enrichment much easier to tune. Cylinder cuts will be used on modern anti-lag and launch control strategies. Although Thor makes good power even before boost kicks in, requiring very little if any anti-lag for circuit racing use, there is another use.
In our #er8 aero development we noticed that even mildly exhaust blown diffuser/aero setups will show significant gains in aero performance. To keep the exhaust velocity high at all times, to keep the aero working well at all times, it's beneficial to utilize a very similar ECU control strategy to modern anti-lag. So we set up Thor v2 to be able to handle this well!
The intake and exhaust ports on Thor v2 have also been improved. Both to help with other aspects, but also to improve the port area ratio and overall port shape. Flow is expected to improve also as a side result, but this will typically not be a important factor in a race engine with a good starting point. Bigger numbers do look better though, so there is that, even though it has almost no influence on performance at all.
Some small manufacturing tweaks have also been done to make the engine look that little bit nicer than what it already did!
All new Thor orders are Thor v2. Check out more details and order your Thor from our raceshop!